Slate
nos trae una noticia que constituye un verdadero elogio de la planificación sanitaria:
The Soviet method for attacking infection that we can learn from.
Posted Tuesday, May 30, 2006, at 12:41 PM ET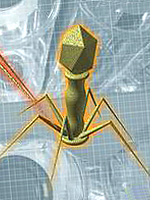 In the 1920s and '30s, with diseases like dysentery and cholera running rampant, the discovery of bacteriophages was hailed as a breakthrough. Bacteriophages are viruses found virtually everywhere—from soil to seawater to your intestines—that kill specific, infection-causing bacteria. In the United States, the drug company Eli Lilly marketed phages for abscesses and respiratory infections. (Sinclair Lewis' Pulitzer-winning Arrowsmith is about a doctor who uses phages to prevent a diphtheria epidemic.) But by the 1940s, American scientists stopped working with phages for treatment because they no longer had reason to. Penicillin, discovered by the Scottish bacteriologist Alexander Fleming in 1928, had become widely available thanks to synthetic production and zapped infections without the expertise needed for finicky phages.
But now the equation has changed. Many kinds of bacteria have become antibiotic-resistant—prompting a few Western scientists, and patients, to travel to former Soviet Georgia to give bacteriophages for treatment a try. Phages have been used in the former Soviet Union for decades because scientists there had less access to antibiotics than their American and European counterparts did. Phages were a cheap alternative, and in Soviet clinical trials, they repeatedly stopped infections. Now in a bid for medical tourists, Georgia has opened a center in its capital, Tbilisi, which offers outpatient phage treatment to foreigners. In connection with the Eliava phage research institute, which Stalin helped set up in Tbilisi in 1923, the treatment center offers personalized cures for a host of infections the United States says it can no longer do anything about.
In 2000, the Centers for Disease Control, along with other federal agencies, warned that the world might soon return to a "pre-antibiotic era." Two million people each year now get hospital-borne bacterial infections, 1.4 million of them resistant to antibiotics and 90,000 of them lethal. One example is sepsis, the infection that sickened* Joan Didion's daughter, as Didion relates in The Year of Magical Thinking. New antibiotics are being discovered. But it takes 10 years and at least $800 million to bring an antibiotic to market, according to the Infectious Diseases Society of America. The big advantage that phages offer over antibiotics is that bacterial resistance is less of a problem. Unlike antibiotics, new phage batches can quickly be whipped up to take the place of phages to which bacteria become resistant.
/seguir leyendo